REOS 062: Albula line in winter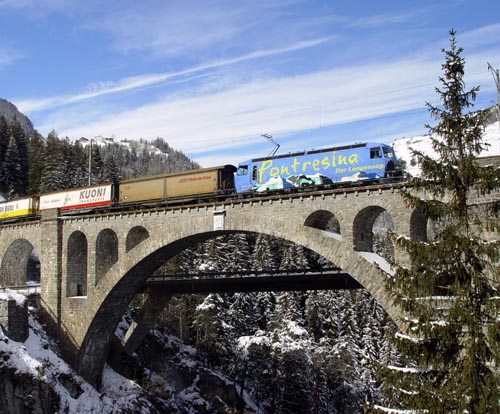 The Albula line in summer is impressive, but in winter, it takes on a new dimension! This film will demonstrate that it is not all "plain sailing" when operating this dramatic route against the elements.
The film is in three parts; In the first part, the landscape in unattractive and the skies are grey and dull. The trains help to bring some colour. The weekend brings additionally long trains to cater for the extra passengers, as well as special car carrying trains. Filming takes us from Solis to Bergün.
In the second part the snow is falling. A "loco" snowplough is in action. It's Monday, and therefore, freight trains are routed between the passenger trains. Again, filming takes us from Solis to Bergün.
In the final part, the sun appears as we film a long freight train close to Bonaduz. From Sils, we climb up grade until we reach the tunnel at Preda, as we shoot a variety of footage from many known and unknown locations.
Maps are added to point out the camera locations. We only use original sound recordings, without any added commentary or music.
Running time: 87 minutes.

Click the thumb to go to the original DVD 062 video on YouTube


The 4:3 video files have been reworked to 16:9 widescreen version's. The links to those video's are below, simply click the thumb to go to YouTube: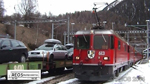 2004-02 [SDw] Old Filisur, old snow, grey weather, amazing long RhB trains and surprising far views!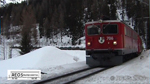 2004-02 [SDw] Classic Albula in winter; long RhB trains in the weekend! Solis, Bergun and more...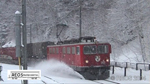 2004-02 [SDw] Albula with heavy snowfall! 17 "Classic" RhB trains, (5 freights), in REAL WINTER!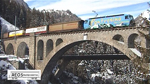 2004-02 [SDw] Classic Albula with fresh snow, some sun: 14 trains at Landwasser, Solis, Surava,....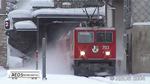 2004-02 [SDw] Classic Albula in WINTER, Bergün to Preda, fresh snow, amazing RhB trains, super sound




© 2018 REOS Image productions